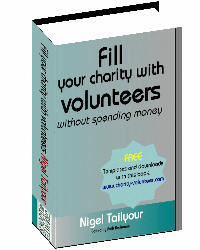 Discover every strategy and secret I've learned from years of helping charities recruit volunteers.
There are hundreds of things you can do to make a tremendous difference in your success of recruiting volunteers to your favourite church group, school group charity or social club.
"Fill your Charity with Volunteers"
details everything I've learned for squeezing the maximum success from the smallest cost. I've written this e-book as a step-by-step information resource to help
you
succeed in finding help for your group too.
This is THE reference book for every volunteer recruiter who has ever tried to get voluntary help.
Hi, I am Nigel Tailyour,
I cover everything: planning, setting up, writing the letters and emails - I even give you 18 FREE templates that really work. You can use them too for recruiting, fundraising and so much more.
I have been doing this for several years, and have found several tips in this book will make your recruiting even easier. It is just like having a great fellow volunteer by your side!
How did I discover these strategies for filling charities with volunteers?
During the first few years of my my volunteering I watched my charity volunteers decline until the charity reached a "tipping point" and unless we did something we would have to close - even if only for a few days or hours.
It was frustrating to see the Directors put so much effort into getting ready for a recruitment event, and spend an entire day (unpaid) hoping that someone would show up and volunteer - and then come home with only one half-hearted show of interest.
---
So I put my name forward as the "Volunteering volunteer". I said to my Director that I would do the recruiting of new people into the charity.
I said," It can't be THAT difficult!"
Now, I should just explain that I have 30 years experience running a very successful company heading up sales and marketing. I thought that it is only selling in a different way.
I am also a Fellow of the Institute of Sales and Marketing Management. So I used some techniques that sales people use - but only with poor results.
---
But I didn't give up. I persevered, trying new things, observing what works, and applying the lessons I learned from ideas that did not work.
Through trial and error I gradually developed a more professional - and far more successful - approach to filling our charity with volunteers. We rose from 76 volunteers to over 120.
As I began to use and refine my new winning approach I experienced a big increase in my information events, volunteering numbers, and the volunteers that joined and stayed with the charity.

---

Here's one example of the results I'm getting by using the strategies I share with you:
We were trying very hard to find people who could fill a role in an emergency that sometimes gave them short notice. Our traditional approach was to ask our retired volunteers, reasoning that they had more time and less commitment than someone at work during the day, but it was not working at all.

So we used a technique that I explain in the book and we started to recruit people that lived only a few minutes away. In fact one volunteer lives in the same street!


This meant that we now had some great people only a few houses from the charity.
---
I didn't share this to boast, but to give you a concrete example of the results I'm getting with the tips and techniques I detail for you in my e-book.
I've tested and honed these strategies so that they really work.
Much of the information in this book has never been published anywhere else before and I've held no secrets back - "Fill your charity with volunteers" is your complete, 176-page, step-by-step success guide to getting help for the work that you do.


You don't have to re-invent the wheel and go through the same learning curve I did to find out what really works.


I've already done it for you.
---
What You'll Learn in This E-book:

Section 1 - The Quick Start
There is nothing better to motivate you than to see some quick success at almost no money and so we begin with some easy to do starters.
Do not spend money on advertising

Working with people who do not know you yet


Giving Talks and

Working with people you do know

Getting them to help you out

Getting them to STAY
---
Section 2 - Getting the word out there - cheaply
Spreading the word at no cost or time

Tips for using local places of Worship

How to engage the passion of local students

Using Freshers Week to bring in great students

Student Magazines and websites for recruitment

How to get on Student Radio around the country

Getting the local Press to fill your charity - 5 ways to make them write about you.

Where to find FREE or Cheap Advertising - yes it IS out there
---
Section 3 -Moving into second gear - still not spending money
Finding someone for a specific job such as a lawyer or accountant

Public Libraries- and how to use them to recruit

Local Radio and TV in your area to fill your charity

Free newspapers and how I used them with success

Txt to volunteer is as cheap as it gets

Email to volunteer is even cheaper
---
Section 4 - now we are really moving - and seeing results
Working with your existing volunteers so less work for you

Social Event - using the Free Ticket Trick

Your regular events put to good use

Mystery Shopper to make your mailings really effective

Rewarding your existing volunteers
---
Section 5 - Reap the rewards of your earlier work
Here is what volunteers said put them off the charity - it makes horrible reading - but put it to good use.

There are 5 benefits of volunteering -tell your volunteers and they will join.

Ideas on how to show recognition for your volunteers - keep them motivated

Some easy selling that are very powerful

There are only 3 reasons why anyone buys anything - when you know the reasons you can use it as a powerful tool.

What are the 5 reasons for them to join you?
---
Section 6 - some simple ideas that show that you understand your newbies.
Your USP or Unique Selling Point?

4 Tips to know "What are you selling" to bring them in.

There are only three reasons for volunteering - use this every time

What does Feel Felt Found mean and how it will DRAMATICALLY increase your recruitment.

More about keeping them motivated and keeping them!
---
Section 7 - Now you are ready to recruit your recruitment team to follow you and give you a rest!
3 Easy ways to Prospect, Cultivate, and Ask

3 Easy ways to Prospect, Cultivate, and Ask at talks

Use the Volunteering Week

Breaking new boundaries

---
You'll also receive these 3 bonus resources that are essential to your success:
Bonus No.1: The free Talent Card Templates.
These are proven to work and make your life so easy.

Even if you only use just ONE idea to boost your recruitment and still pay almost nothing then THIS IS THE ONE IDEA.
---
Bonus No. 2: Response Checklist - an invaluable tool.
This huge master checklist includes more than everything you'll ever need to make your whole recruitment campaign a fantastic success.
Pick and choose from this master checklist to create your own list that you can print out each time you get ready for a public event or your own internal event.
Stick to your list and you'll have everything with you that you need to succeed!

---
Bonus No. 3: Success Timeline for Preparing for your Information event


Just follow this timeline for every event you do, and you'll see a definite improvement in the efficiency, simplicity, and success of your recruiting.
For your convenience all three of these Bonus Resources are included in the ebook.

Good preparation is a critical element of successful recruiting.
This timeline is an essential resource for making sure everything gets done, that it's all done in the right order, and in plenty of time before the event.
This schedule is one of the most important tools I use to prepare for successful events.
It lists the items you need to take care of at each stage, with individual
To Do Lists s for:
two weeks before the event

one week before the event

the day before you leave for the event

while loading your vehicle for the event

at home again after the event

on an ongoing basis.



---
Learn how to fill your charity with volunteers for just US$32

---
Fill your charity with Volunteers

This ebook is loaded with proven strategies, tips, and years of experience that you won't find anywhere else!

You can access " Fill your charity with Volunteers" for only US$32

about the same price you'd pay for a tiny local advertisement in a newspaper that brings in NO RESULTS .
Immediately following payment you will be able to download your eBook, and in just minutes you'll have access to the Fill your charity with Volunteers
The eBook is created in Adobe Acrobat file format. (PDF file). If you don't have the Adobe READER software for this file, you can download and install it for free.

If all you do after reading this ebook is recruit ONE volunteer, you will get your money's worth.
But I'm certain the information in this book will do a lot more than that for you.
I think you'll be inspired by this guide - and that when you begin using these strategies to fill your charity, you'll find it's the best US$32 you will invest in your charity this year.
No-Questions-Asked Guarantee:
If for any reason you don't agree that this is the most complete and useful guide you've ever received on the subject offinding volunteers for almost no money, just email me within 8 weeks from your date of purchase - and I'll issue you a 100% refund immediately.
You have 8 full weeks to read and apply every success tip, strategy, and secret I've discovered over the past several years of helping charities recruit more people. If you're not completely satisfied with this comprehensive guide, just ask for (and receive) an immediate, 100% refund.
Download this ebook and start learning new success strategies, tips, and secrets within minutes....
Use PayPal or Credit Card

CLICK HERE TO BUY AND RECRUIT YOUR GREAT VOLUNTEERS
Fill your charity with Volunteers
This ebook is loaded with proven strategies, tips, and years of experience that you won't find anywhere else!
Use PayPal or Credit Card click here to purchase

---
You can contact me on +44 1491 575267 - +441 865 865 865 or write to
28 Valley Road, Henley on Thames, RG9 1RR - UK
- or email me on nigeltailyour@gmail.com
---
I wish you every joy and success with the great work that your charity does.